Over de bitcoinprijs heb ik niet veel te zeggen. Behalve dit: FOMO. Fear Of Missing Out. De angst om iets niet te bezitten waarvan de prijs sterk stijgt, terwijl je kennissen die eerder kochten rijk worden. Meestal gaat het dan over beleggingen in aandelen, nu zijn speculanten bang dat ze de bitcointrein gaan missen.
Ter illustratie: de bitcoinprijs is vandaag (29 november 2017) meer dan 10% gestegen. In één jaar tijd is de prijs maal tien (!) gegaan.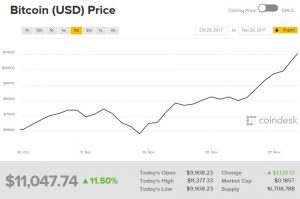 What happens next? ? pic.twitter.com/gyWe1zTQmG

— Jan Musschoot (@JanMusschoot) November 28, 2017
I still don't understand #Bitcoin I know it's a scam. Having said that I'm all in. pic.twitter.com/YyXgWdzBaV

— Dave Portnoy (@stoolpresidente) November 30, 2017
Bitcoin now at $16,600.00. Those of you in the old school who believe this is a bubble simply have not understood the new mathematics of the Blockchain, or you did not cared enough to try. Bubbles are mathematically impossible in this new paradigm. So are corrections and all else pic.twitter.com/go9v0w92zk

— John McAfee (@officialmcafee) December 8, 2017
===
Bankers are people, too gaat over veel meer dan enkel bitcoin!