Transparency International EU has published a report about the European Central Bank (ECB). The author of the report, Dr. Benjamin Braun, has analyzed the independence, transparency, accountability and integrity of the ECB.
Several media organizations covered the findings.
The launch of the report was accompanied by a symposium in Brussels on Tuesday. During an interesting panel discussion, it was debated how the ECB can improve the way it works. Carl Dolan and Leo Hoffmann-Axthelm from Transparency International EU stressed that the ECB had cooperated with the NGO.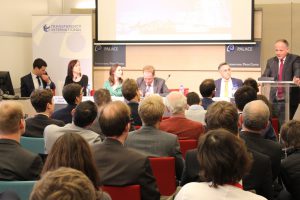 Many topics were covered during the discussion. For example the status of whistleblowers, freedom of information requests, and the "cool-off period" demanded when ECB executives move to the private sector.
But my main interests were monetary policy and the ECB's supervision of the banking sector. Continue reading "Baby steps towards more ECB accountability"