Dit gebeurt als bedrijfjes aankondigen 'iets' met blockchain te gaan doen. Zonder verdere commentaar, de grafieken spreken voor zich…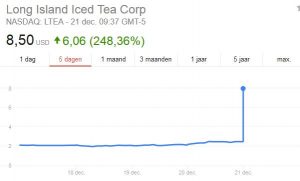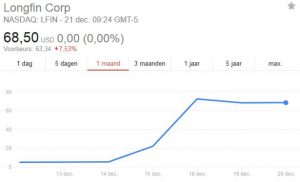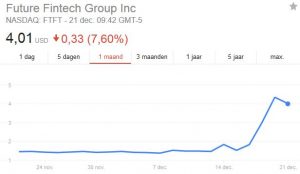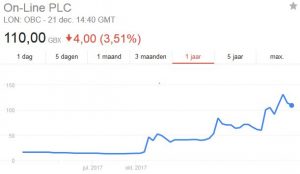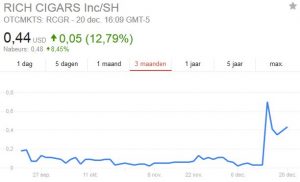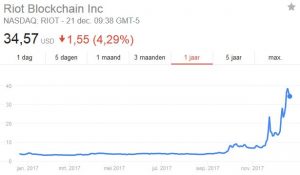 Wil je toch meer lezen, start dan hier of hier.
A cigar company announced that they are now in the cryptocurrency business and this happened.

I'm not even kidding pic.twitter.com/ATJB87ulsw

— Nate Anderson (@ClarityToast) December 14, 2017
So $LFIN is a $2B company with $2M net income. Seems legit. I don't see what could possibly go wrong. Cheap

— Blockchain Capital♿️ (@RampCapitalLLC) December 19, 2017
One of the greatest interviews ever, and by greatest I mean worst, and by worst I mean absurd. $LFIN https://t.co/sCxguONxYb

— Rudolf E. Havenstein (@RudyHavenstein) December 18, 2017
Check out the website of this company ?
-"Calculating the incalculable"
-"powered by Artificial Intelligence and Machine Learning"
-"Blockchain-Empowered"
-"There is a huge opportunity for Longfin"#bubble https://t.co/f5RLWTOt2e https://t.co/dPJAJX1FtE

— Jan Musschoot (@JanMusschoot) December 18, 2017
===
Ik had mijn boek beter Blockchain free money genoemd, dan waren er wellicht al een miljoen van verkocht 🙂 Zoek je een serieus boek over bankieren dat ook relevant zal blijven na de huidige blockchain/crypto hype, lees dan Bankers are people, too.